The Softroc® of Oklahoma City Advantage
Top-Quality Surfacing for Indoor and Outdoor Spaces
Wherever there's a risk of slips and flooring, Softroc®'s anti-slip EPDM and SBR Rubber Granules offer an aesthetically pleasing solution. These hard-wearing materials are excellent as a rubber walkway in Oklahoma City. With tactile rubber surfaces that provide traction for footwear, Softroc's rubber surfaces ensure safety over wet, cracked, and uneven surfaces. They are perfect for unshaded patios and walkways, as well as your rubber pool deck in Oklahoma City.
Finding the Right Surface Doesn't Have to be Hard
At Softroc® of Oklahoma City, we are focused on details that produce excellence. We continuously improve our concrete overlay and rubber driveway products as well as our installation techniques to ensure we meet the highest industry standards.
No matter the look, feel or theme of your ideal space, our local team can get it done for you. We enjoy being creative and inspirational as we create places people can feel safe and comfortable and enjoy for years to come.
Softroc® Applications
The Premier Choice for Your Space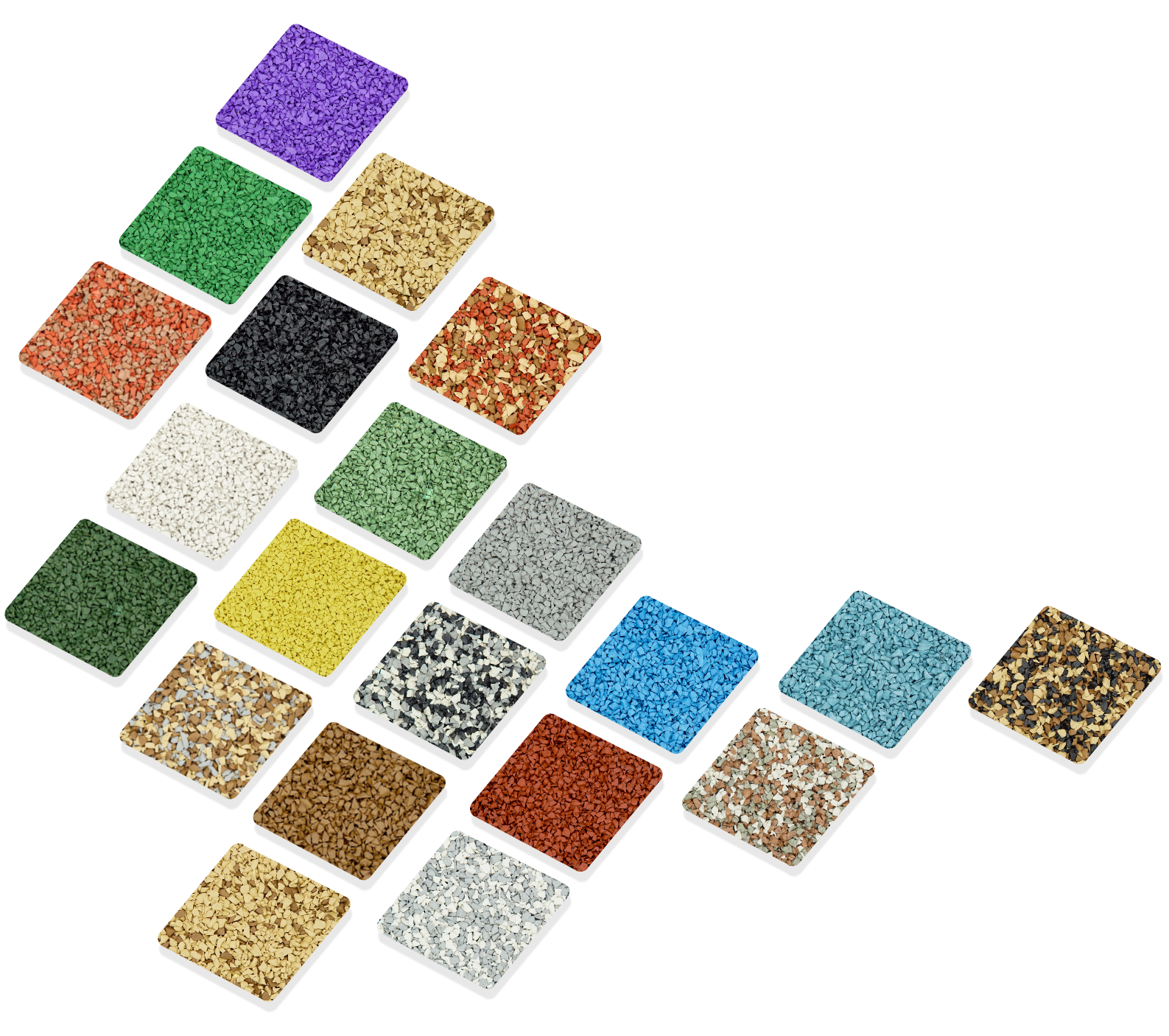 Upgrade Your Space in 3 Easy Steps
Here's how you can make your space more stylish and enjoyable:
Ready to talk about your surfacing project? Fill out our contact form and one of our Softroc® of Oklahoma City representatives will get back to you as soon as possible.
We offer a free consultation to learn more about your flooring needs. Our local team can also do in-home measurements to calculate the cost of your rubber surfacing in Oklahoma City installation.
3
Get Your Rubber Surfacing Installed
Once your color and design preferences are sorted, our local team will begin the installation process. We can revamp your old flooring in as little as one day!
Industry-Leading Rubber Safety
Surfacing Solutions in Oklahoma City
Softroc® of Oklahoma City is renowned for its service delivery that is second to none.
We pride ourselves on providing unrivaled rubber surfacing focused on safety and innovation.
Why Choose Softroc®
Rubber Surfacing in Oklahoma City
A Smart Investment for Years of Enjoyment
Softroc® has 30+ years of experience developing and installing premium rubber surfacing for outdoor and indoor uses. Expect a smooth experience with Softroc, no matter the scale or project!
Softroc® offers various financing options to customers via Service Finance. You can enjoy discounted interest rates and affordable monthly payment terms – get in touch with Softroc of Oklahoma City to inquire.
Whether installing a driveway or rubber patio in Oklahoma City, our team works efficiently and aims to finish within the day without sacrificing quality. This is possible thanks to our in-house subcontracting and project management.
Softroc® of Oklahoma City is here for the long term. Contact your local team today to learn more about our warranties!
What Our Happy Clients Are Saying
The crew did an amazing job laying down my Softroc. Not only do I now have a non slip surface around my pool, but my concrete is protected and my feet stay a lot cooler in the summer! Their crew was timely, professional, and hard working. I'm happy to be apart of the Softroc family!! Can't wait to add more!
The owners and their crew worked so hard on a hot hot day. The job was performed as they promised. I would use them again and again for any surface at my home and would definitely recommend them to anyone considering resurfacing their pool deck, patio, tennis court, outdoor kitchen, etc.! You will be very happy you did!
Incredible product, made our whole complex look like new. The nonslip grip on the stairs is amazing. Going to do around the pool next year.
Amazing job on our pool deck. We are so thrilled.
Couldn't be happier - has my highest recommendation. The company converted my eye sore pool deck into beautiful area that is comfortable to walk on and looks great. The softroc surface was perfect for blending the mismatched concrete into an attractive and uniform deck. The crew were professional, showed up on time, and kept the work area neat. Noteworthy (because its rare) was that the crew had the right number of people to keep on schedule without rushing the job which contributed to the high quality end result.
Excellent Service, On Time and quality product. Very Professional.
The team of professionals met my expectations and then some! The pool deck, patio, and tiki area look beautiful.
Interested in Franchising?
Get My Free Softroc® Consultation
Get My Free Softroc® Consultation
"*" indicates required fields